At Tech Fab, we recognize that the technology we work with is essential to meeting our mission of providing precision parts in a cost-effective and timely manner. That's why we continually invest in the latest fabrication technology. We put the best equipment in the business in the hands of the most highly skilled metalworkers in our market to produce superior fabrications for our customers.
LASER CUTTING
1-Amada Quattro Laser Machine
1-Amada Quattro 2000
1-Mazak Super Turbo-X48 Mark II
CNC PUNCHING
1-Motorum 2044 - 20 tons with automatic loader
CNC MACHINING
1-Haas VM-2 Vertical Mold Making Machine
STAMPIN
1-Komatsu OBS Press - 66 tons
SHEARING
1-Amada M-2560 1/4" x 8' capacity
WELDING
1-Performarc 100 Robotic Welding System
1-Miller Syncrowave 351 TIG & MIG Welder
1-Banner Spot Welder with Entron Control

1-Taylor-Winfield Spot Welder with Entron Control
1-Sciaky 100 KVA Spot Welder with Entron Control
1-Miller MIG Welder - 250 Amp
1-Lincoln AC Generator Welder - 250 Amp
1-Burco CD Stud Welding Unit
1-Miller Dynasty 300 DX with CK Autofeed
GRINDING. SANDING, & DEBURRING
1-PMC Stroke Sander and Polisher
1-Timesaver - 24"

1-Falls Deburring Machine
1-Sweco Vibratory - 5 cubic feet
1-Roto-Finish, Model ST-1
1-Norton Surface Grinder with Hydraulic Feed
3-Bench Grinders
1-Wilton Belt Sander - 6"
1-Wilton Square Wheel Belt Grinder - 2"
1-Butterfly Filing Machine
BENDING & FORMING
1-Wysong Press Brake - 10' 100-Ton Full CNC

1-Amada Press Brake - 8' 88-Ton Full CNC
1-Amada Press Brake - 4' 35-Ton Full CNC
1-50" x 16 GA. Slip Roll
1-24" x 20 GA. Slip Roll
1-Di-Acro Roll Forming Machine - 12" Capacity
FASTENER INSERTING
1-Haeger 824 Window Touch Inserting Press
with Auto Feed
1-Haeger Inserting Press with Auto Feed
1-Di-Acro Inserting Press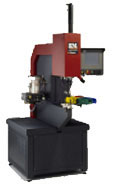 MACHINING
1-Bridgeport Miller with Prototrak 2-Axis Control
1-Bridgeport Miller with Power Feed
and Digital Readout
1-13" Southbend Lathe
1-Prazi 5"x12" Precision Screw Cutting Lathe
DRILLING AND TAPPING
1-Flex-Arm Pneumatic Tapper
1-Brothers Dual Spindle Auto Tapper
SUPPORT EQUIPMENT
E2 Shop System
SMP/IS Programming Software
AutoCad 2000i and 2003
with Data Exchange Translater
Pro/ENGINEER Wildfire
Genesis QA300 for Mobile Data Collection
Setra Digital Scale & Counting Machine
with Bar-code and Label Capacity
1-Pro-Pen Parts Marking Machine
CUTTING
1-Scotchman 10" Circular Cold Saw
1-DoAll Band Saw & File with Attachments
1-10" Horizontal Band Saw